A quilted christmas stocking is a wonderful item to create. It will last for years.
They are numerous design panels available from the traditional christmas 'santa' or 'snowman' to a more funky childrens character such as Pooh Bear or Bob The Builder.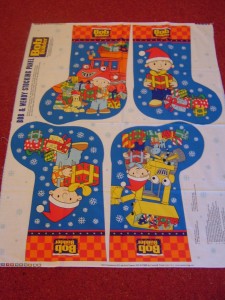 All of the stocking I tend to make start off as a fabric panel, which needs to be cut out, ensuring that there is approx 1/4 inch of seam allowance, which is important when you come to make the stocking up.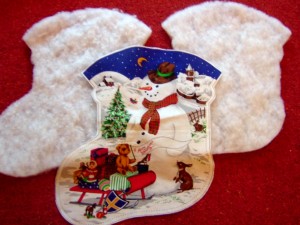 You then add a layer of wadding, back it with a plain cotton fabric & 'quilt' around parts of the design.
I am fortunate enough to have a very old Singer Sewing Machine, which is hand operated.  This enables me to very slowly sew around the design, with a very neat stitch.  Of course, there is nothing to stop you from doing this by hand.  It will take a little longer, but still create the desired effect – which is to effectively bring the 'design to life'.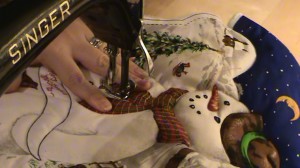 Once you have done all of the quilting, any thread ends need to be pulled through to what will eventually be the inside of the stocking & knotted.
The reverse of the stocking tends to be a crisp red or green again cotton fabric, although you can make them with the design front and back if you prefer.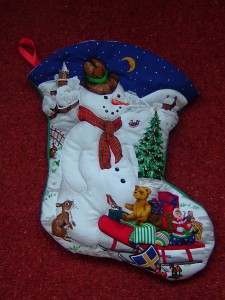 Here is a finished example of the Snowman Design (other finished designs can be found in the Gallery):
I am in the process of creating a complete tutorial including more photos and video footage to assist you in creating one of these wonderful Christmas Stockings, which is a delightful and useful decoration for any home.